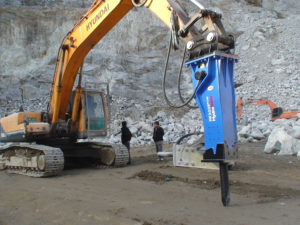 Operator Routine Maintenance
Lubrication – Grease the tool and bushings every two to four hours of operation, more than often in dusty or severe conditions, with five to ten pumps of good quality, high-temperature grease.  Proper lubrication at all times is critical.  Lack of lubrication will increase the temperature in the bushings and tool shank which ultimately causes deterioration of these components.
Inspection Points – including checking welds for possible cracks on the bracket cap, rear, tool, and boom.  Also, check for loose nuts and bolts in the bracket cap, charging valve, the accumulator, side plates, tool holder pin, and retainer pins.
** When replacing tool retainer pins always replace them in sets and rotate them equally.  With excessive oil leakage down the tool can indicate worn or damaged seals that need to be replaced. **
Periodic Maintenance to perform every 100 hours would include the following:
Remove the tool and all grease from the tool holder bushing.  Check for chips or cracks inside the housing and on the bushing surfaces. Cracks and chips could
indicate that: (1) Lubrication is insufficient or (2) Grease type is not appropriate or (3) Blank hammering and side loading is occurring and the hammer is being operated improperly.  Check wear on tool pin and examine the shoulders and side surface. If they are worn or deformed, rotate or replace as required.  Check wear on tool holder bushing.  Replace tool, tool holder Bushing or both where the combined wear exceeds 5mm. Some bushings are grooved to provide even grease distribution.  Replace the Bushings when the grooves are worn through. Excess tool holder Bushing wear causes tool misalignment to the piston, causing premature hammer failure.
Replace damaged or worn parts Then wipe all components clean, including the lubrication port. Hand grease the tool shank and inside the chuck bushings before placing it back into the hammer.
Factors impacting Tool Life include:
The type of work ( Twisting action ) Breaking reinforced concrete, for instance, is more detrimental to the tool than concrete without rebar.  Twisting action caused by the flat edge of the tool against the tool and retainers.
The type of rock in particular abrasive rock will wear the tool out faster than less abrasive material. Certain types of rock turn to powder which cushions the impact.  This could cause the tool to overheat and mushroom.
Blank hammering will chip the tool on the top and in the retainer area. These chops accelerate wear and tear on the tool, retainer pins, round Bushing, and the piston.
Posted by RJB Hydraulic Hammers