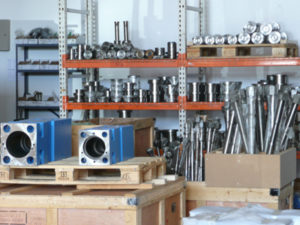 With our growing base of hydraulic hammers in the field, RJB Hydraulic Hammers has launched a one-price rebuild service for our larger-sized HydroRam hydraulic hammers.  This impacts the HydroRam HK300S, HK330, HK380S, HK500 and HK580S series hammers.
RJB Hydraulic Hammers only supports the rebuild process of both HydroRam and HydroKhan branded hydraulic hammers.
Benefits (geared toward saving you time and money)
We arrange shipping – from pickup to drop off after the hydraulic hammer is rebuilt
We handle all of the coordination with our partners for both machining and hydraulic work needed
A single source to pay for freight, parts, and servicing of the hydraulic hammer
What is include:
Round trip freight (pick up and return to your location in the continental U.S.)
Standard Parts and Labor for a rebuild including upper and lower bushing, seal kit, and main control valve. (major parts at an additional charge)
Project Coordination from the Product Support Manager
Additional New Working tool returned with a rebuilt hammer ($2000 value)
What is not included:
Replacing the Center section.  It needs to be in shape for being re-used (replacement not included)
Only minor polishing of piston and cylinder (replacement or exchange not included)
Please contact us for the availability and pricing of this new service offering.
Posted by RJB Hydraulic Hammers