Here at RJB Hydraulic Hammers, we believe that power built with exceptional quality is the perfect solution to a tough demolition job. But what about the cleanup after the demolition is done? This is where our Hydraulic Pulverizers come in.
We offer the highest quality HydroRam excavator hydraulic pulverizer attachments on the market. With wide and powerful jaw openings, these pulverizers will cut concrete structures and other rubble down to size with ease. Your HydroRam pulverizer can also process rubble form bridge columns, retainer walls, buildings, and foundations faster, quieter and more efficiently than other conventional methods.
Buying the HydroRam brand provides a number of benefits, including:
Short-stroke trunnion cylinder for higher output
Reliable speed-up valve for faster process times
Extra-durable designs that lead to extended service life
Easily exchanged teeth and haws
Minimal maintenance and increased reliability
Our pulverizer attachments are perfect for getting rid of all that leftover concrete debris. Rather than hauling rubble away, you can use your new pulverizer to process the rubble directly on site. With these helpful excavator attachments, you can separate concrete from rebar and reduce it to smaller, manageable chunks. In the end, you'll save more money because you won't be making as many dumping runs as you normally would.
All of our pulverizers include an extra handy speed-up valve, which automatically shifts the amount of power and speed routed to the jaws, depending on the load. When the jaws close on some rubble, the valve will allow for more crushing power. When you're opening and closing the jaws with no load, more speed will be available instead.
We stand by the durability of all our products, and this is no different with our hydraulic pulverizers. These products last a long time, and when the time comes to replace teeth or blades, you'll have no problem at all swapping them out.
If you need something more powerful and reliable for your rubble processing and demolition needs, look no further than our excavator hydraulic pulverizers. Please give us a call for more information regarding our line of hydraulic pulverizers, hydraulic hammers or other excavator attachments.
Ready to find out more?
Call Us Toll Free at 1-888-651-0187 or click to the button to Request a Quote today!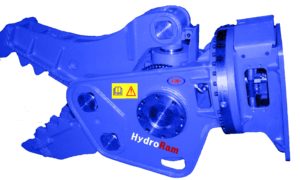 "Serving Our Customers Worldwide With Integrity Since 1999"