The HydroRam HK220 Hydraulic Hammer with Anti-Blank Fire is Built for Rental Fleets wanting more hammer uptime!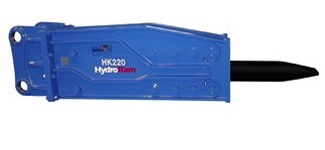 RJB Hydraulic hammers is excited to announce the launch of the newly redesigned HK220 HydroRam hydraulic hammer with Anti-Blank Fire as a standard feature.  Anti-Blank Fire (ABF) is a critical feature that was designed for rental fleets as operator experience varies with each rental of a hydraulic hammer.  The ABF feature prevents the operator from engaging the hammer unless the working tool is compressed against a physical object.  In the past, rental fleet hammers would show excessive wear and breakage as operators would sometimes have misfire incidents which severely wears down the internal components of the hydraulic hammer.  This excessive wear could result in significant downtime for hydraulic hammers not having the ABF feature.  Having ABF as a standard feature on the HK220 series hammer means that rental yards can easily match up the hydraulic hammer to operators of all experience levels.  The HK220 ABF hydraulic hammer will easily match up to excavators in the 200-250 class range.  Several of these newly designed hydraulic hammers are being deployed in rental fleets around the U.S.
RJB Hydraulic Hammers truly believes that the ABF feature will be requested on all hydraulic hammers from rental fleets around the country.  The ABF feature is now available as a standard feature on all HydroRam Hydraulic Hammers from the 2000-14,000 lb. impact class range.
Please contact us for further details about the HydroRam HK220 Anti-Blank Fire hydraulic hammer or other models that align to your machine.
Check us out at Equipment World: HK220 with Anti-Blank Fire
Video of HK220 ABF in use: HK220 ABF Testing
Posted by RJB Hydraulic Hammers