CONEXPO/CON-AGG 2017 Exhibitors  include RJ Hydraulic Hammers. RJ Hammers will provide customers with the opportunity to visit personally with our industry professionals. We will be located in the North Hall, N-13354 next to John Deere and Hitachi.  RJ Hammers knowledgeable staff and manufacturing representatives will be on hand to answer any questions you may have about our state of the art hydraulic hammers. For immediate assistance, please call us at 1-888-651-0187
The 2016 ARA Rental Show will feature RJ Hydraulic Hammers as a new exhibitor.  The upcoming Rental Show will be held at the Georgia World Congress Center in Atlanta, Georgia Feb. 21-24 2016. Ron Johnson will be on hand to answer questions and show you the newest  features of the HydroRam Severe Duty Series of hydraulic hammers. Please stop by to visit with Ron and our staff at Booth No. 5467. We look forward to seeing you there! Please call us at 888-651-0187 for more details.
HydroRam Severe-Duty hydraulic hammers and attachments have been exhibited by RJ Hydraulic Hammers and Heavy Parts since 1999 at National Tradeshows such as ConExpo in Las Vegas, AED Condex and numerous other Regional Trade Shows and Construction Equipment Events.  Our industry professionals always enjoy meeting with you personally, answering questions, and displaying our products for you to see firsthand.
If you are unable to attend one of our events, please call us with your questions about new hydraulic hammers for sale or used hydraulic hammers for sale. We can also help you find excavator parts for Daewoo, Doosan, Samsung, Terex or Volvo excavators. We are always available by phone or email to answer  your questions. As we travel throughout the country, visiting customers and potential new dealers, we hope to meet you personally. Please call us to find out when we will be in your area.
Thank you to all of our customers and new friends that always stop in to see us at AED Condex, ARA Rental Shows and also ConExpo in Las Vegas! We look forward to seeing you at the ARA Rental Show in 2016 and ConExpo 2017.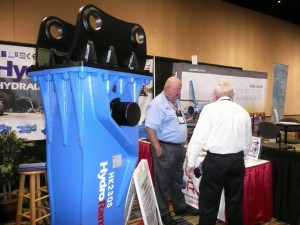 Toll Free: 1-888-651-0187
Outside US: 1-727-215-4924
Email: ron@besthammers.com
"Serving Our Customers Worldwide With Integrity Since 1999"