At RJB Hydraulic Hammers, we maintain an ever-changing inventory of used hydraulic hammers for sale. We also have a range of rebuilt hydraulic hammers that deliver the same power and efficiency you expect from our new models.
Each of these hydraulic hammers can achieve the levels of power and productivity you need to save time and money on your project.
You don't have to sacrifice quality, durability, or ease of maintenance to get the results you want at a price that fits the budget.
A Wide Selection to Cover Your Needs
These used hydraulic hammers for excavators and other carriers can take on some of the most demanding applications, from open-pit mining to commercial demolition, to smashing massive slabs of concrete.
You can find small, used hydraulic hammers for mini excavators that combine power and efficiency to finish those jobs in tight spaces. We also have a number of large hydraulic hammers that are intended for your heavy-duty projects.
Regardless of the size, these hydraulic hammers are designed to provide the efficiency and accuracy you need for controlled breaking and demolition.

Atlas MB1700 (Rebuilt)
REDUCED TO $16,800
SOLD!
3750 lb weight
600 bpm impact frequency
42 GPM oil flow
2610 psi
18-34 metric ton carrier weight
This Atlas rebuilt hydraulic hammer has been recently inspected and has brand New seals and working tool installed.  These breakers make use of AutoControl, StartSelect, and the VibroSilenced dampening system. Together, these features allow you to monitor and adapt frequency and power output, adjust startup and shutoff procedures to match the job site conditions.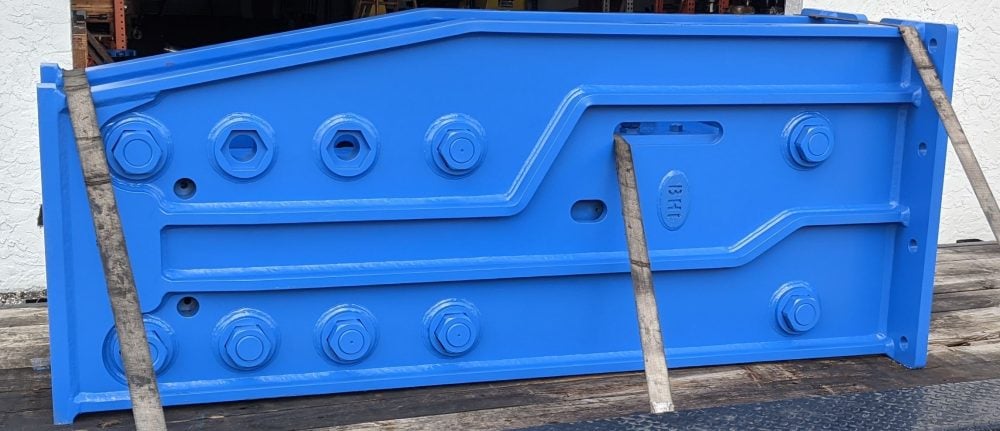 HydroKhan SG5000 (Rebuilt)

$48,800
Working Weight: 8712 lbs.
Oil Flow: 63.4-84.3 GPM
BPM: 250-450
Tool Diameter: 7.09 inches
6 Months Parts Warranty
The HydroKhan SG5000 is the most forceful hydraulic hammer in the Large Class Severe-Duty Series featured at RJB Hydraulic Hammers.  This superior, high-production model is rated in the 13,000 ft.lb class of hydraulic hammers and works extremely well with carriers from 40-65 metric tons. The working tool is 7.09 inches and it will handle 63.4-84.5 GPM.
The Right Solution at the Right Price
Whether you're looking for a used hydraulic hammer for skid steers, excavators, or loaders, the staff at RJB Hydraulic Hammers can help you get the right tools for the job.
You can start maximizing your uptime while increasing your profitability with these used hydraulic hammers.  These tools were designed from the ground up to improve your production capabilities, and we ensure any used models match our quality standards before they go out the door.
Take a look at our current inventory and find the used or rebuilt hydraulic hammer that fits your carrier and delivers the level of performance you need.
At RJB Hydraulic Hammers, we are dedicated to providing the support you need to get the job done right. Contact us today to learn more about your options.
"Serving Our Customers Worldwide With Integrity Since 1999"