Used and Rebuilt Hydraulic Breakers | Hammers
At RJB Hydraulic Hammers, we maintain an ever-changing inventory of used/rebuilt hydraulic hammers for sale. Our range of certified rebuilt hydraulic hammers delivers the same power and efficiency you expect from our new models.  All rebuilt hammers come with a 6-months limited parts warranty against workmanship or defect.
Each of these hydraulic hammers can achieve the levels of power and productivity you need to save time and money on your project.
You don't have to sacrifice quality, durability, or ease of maintenance to get the results you want at a price that fits the budget.
A Wide Selection to Cover Your Needs
These used hydraulic hammers for excavators and other carriers can take on some of the most demanding applications, from open-pit mining to commercial demolition, to smashing massive slabs of concrete.
You can find small, used hydraulic hammers for mini excavators that combine power and efficiency to finish those jobs in tight spaces. We also have a number of large hydraulic hammers that are intended for your heavy-duty projects.
Regardless of the size, these hydraulic hammers are designed to provide the efficiency and accuracy you need for controlled breaking and demolition.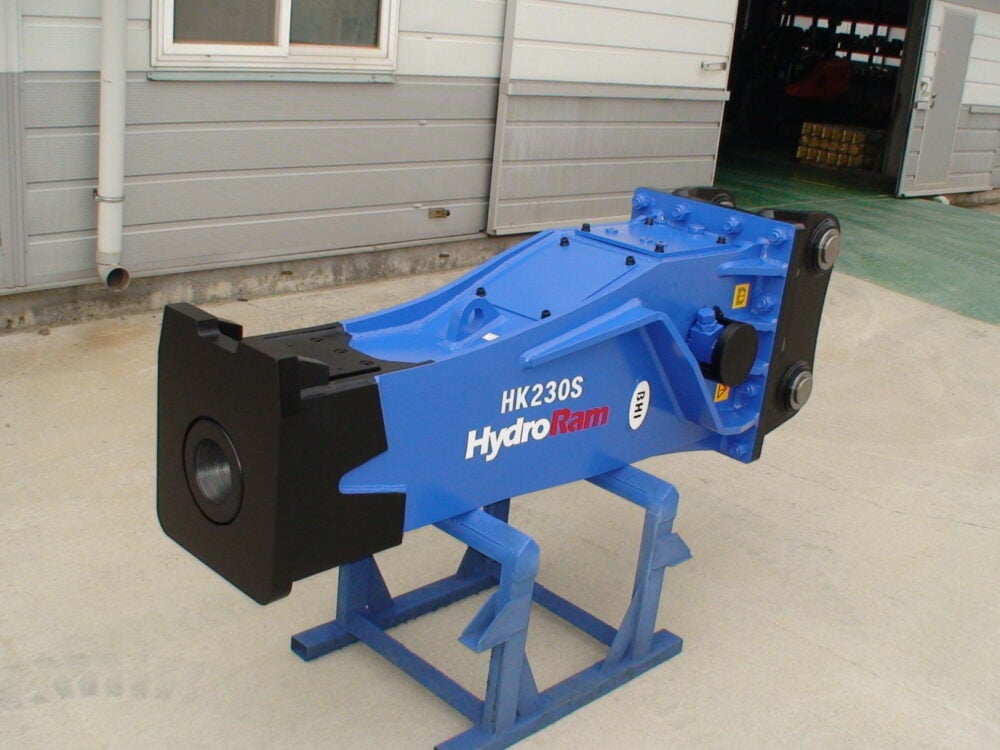 Coming Soon - HydroRam HK230S Premium Series (Rebuilt)
Call for Details
Working Weight: 4290 lbs
370-800 blows per minute
31.7 -47.6 GPM oil flow
2320-2610 PSI
20-28 metric ton carrier weight
6 Months Limited Parts Warranty
The HydroRam HK230S Premium Series hydraulic hammer for sale includes an underwater port for optional underwater operation.  Auto-Lube and grease channel provide grease to bushings automatically to ensure proper lubrication, giving longer service life to bushings and tools.  A cylinder adjuster allows the stroke and blow speed to be controlled by the operator as required for the application.  An anti-blank firing system that eliminates damaging blank or dry-firing.  Pads and side dampers fully enclosed in the box housing protect the power cell.  Our Premium Series Hydraulic Hammers/ Breakers utilize highly wear-resistant materials to increase the hammer's durability, decrease the noise, and reduce the strain on the operator and machine. Comfort and work efficiency is improved for the operator.
The Right Solution at the Right Price
Whether you're looking for a used hydraulic hammer for skid steers, excavators, or loaders, the staff at RJB Hydraulic Hammers can help you get the right tools for the job.
You can start maximizing your uptime while increasing your profitability with these used hydraulic hammers.  These tools were designed from the ground up to improve your production capabilities, and we ensure any used models match our quality standards before they go out the door.
Take a look at our current inventory and find the used or rebuilt hydraulic hammer that fits your carrier and delivers the level of performance you need.
At RJB Hydraulic Hammers, we are dedicated to providing the support you need to get the job done right. Contact us today to learn more about your options.
"Serving Our Customers Worldwide With Integrity Since 1999"