Premium Class Hydraulic Hammers
All PREMIUM SERIES HYDRAULIC HAMMERS are rated for Severe-Duty.
Anti-Blank Fire (ABF)
Blow (Striking) Frequency & Power Control
Dust Intake Prevention Function
Oil Flow Rate Control Function
Speed Control Function
Auto-Greasing Enabling Function
Underwater Enabling Function
Underwater port for optional underwater operation.
Auto-Lube and grease channel provide grease to bushings automatically to ensure proper lubrication, giving longer service life to bushings and tools.
A cylinder adjuster allows the stroke and blow speed to be controlled by the operator as required for the application.
Premium Series Hydraulic Hammers include, as standard, an anti blank firing system that eliminates damaging blank or dry-firing.
Pads and side dampers fully enclosed in the box housing protect the power cell.
Premium Series Hydraulic Hammers/Hydraulic Breakers utilize highly wear-resistant materials to increase the hammer's durability, decrease the noise, and reduce the strain on the operator and machine. Comfort and work efficiency is improved for the operator.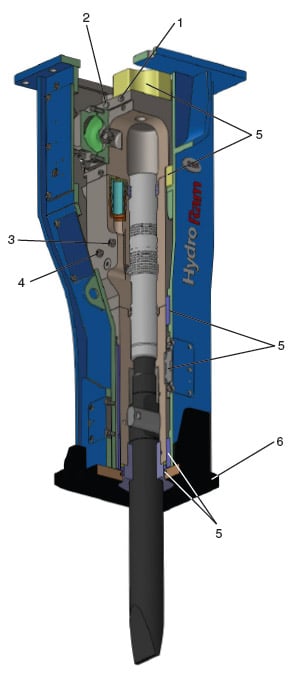 "Serving Our Customers Worldwide With Integrity Since 1999"